Microsoft Teams are capable of many things. They serve as a video conferencing platform, messaging channel for teams, and in-app authoring tool all rolled into one. Their popularity skyrocketed during the pandemic.
Microsoft Teams' user base grew from 20 million in November 2019 to 75 million by April 2020, according to Microsoft. As of this year, the platform boasted 270 million active users - making it the most widely utilized business tool for team communication.
Microsoft Teams has become so popular due to its complexity and need for organization. To maximize efficiency, users must have access to best practices as well as be given ample opportunity to learn and practice them.
What Can Microsoft Teams Do for You?

Let's begin by exploring Microsoft Teams and its features. Afterward, we'll provide a quick setup checklist to get your team up and running quickly.
Teams is like a cloud-based virtual office, serving as the central hub for communication, collaboration and task management within teams. Plus it has an external communication component with videoconferencing capabilities that anyone can join. Invite others to join your chat channel too for even greater collaboration!
Here are just a few of the many features MS Teams provides:


Chat channels for discrete conversations


Team Communication Security Team Communications Security


Integration with Microsoft Office apps


Integration with third-party applications


File sharing


Audio and video conferencing.


VoIP phone system with an additional add-on feature


All team resources can be managed centrally for easy access.


Microsoft Teams Versions

A free version is available for small businesses that is included with a Microsoft 365 Business Plan, though it has some additional features.
Microsoft also encourages personal use of MS Teams
You can utilize it to enhance team collaboration within your workplace, organize family video calls and PTA meeting collaboration - making MS Teams an incredibly flexible and scalable virtual office platform.
1. Establish Your Teams/Departments

Teams provide the platform for creating areas where groups can collaborate effectively. However, it is essential that no one creates these teams on their own; otherwise chaos could ensue.
Here are some ideas to help you set them up.


Establish teams according to departments (accounting and marketing, for instance).


Create an organization-wide team where everyone can work together.


Establish teams according to their roles (office managers, executives, etc.).


If you can reflect your organization's hierarchy within a team area, that would be an excellent starting point. Only those invited to view content within that area are permitted access.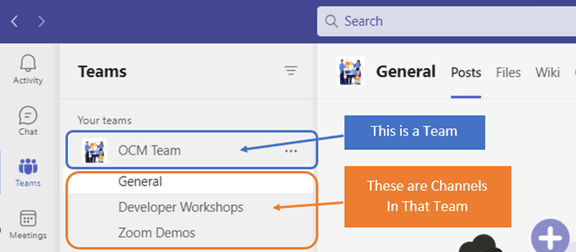 2. Expand Our Team

Add the number of participants to each team. These individuals should have access to resources within that area and typically belong to the group or department responsible for running that team.
3. Create Team Channels

Channels are the next level below a Team and serve to organize conversations. You might choose to create three channels within the marketing team you have established for better focus and easier navigation for everyone involved.
You could, for instance, set up channels to:


Website Management


Social Media


Offline advertising


You should also manage team channels. Ensure everyone has a plan before they create any channels; otherwise chaos could ensue quickly.
4. Create a Team Lab

Tabs can be an excellent way to boost productivity. Imagine that your employees require access to a tax reporting website; asking for login or link credentials takes up valuable time - especially when someone is replacing an existing coworker. With tabs in place, it becomes much less time-consuming for everyone involved.
The Tabs area at the top of team channels allows you to add website links and information. To add a resource or consolidate information for your team, click on the plus sign.
5. Arrange MS Teams Training

Misconfigured user access has been the cause of many failed company initiatives, as those not trained will revert back to how things were before. Switching over to Teams may not yield all its benefits if not everyone is onboard;
To effectively train your employees, reach out to a Microsoft professional for advice and strategies on making the team more productive. We can also assist them with decreasing their learning curve. When setting objectives and timelines for training purposes, make sure to survey users to determine if additional guidance is needed.
Are you having difficulty implementing teams in your organization?

We can assist with many of the challenges that organizations encounter when introducing Teams. Contact us for a complimentary consultation to improve collaboration and productivity levels.