No matter where employees work, it can be challenging to measure productivity. How do you guarantee they're using their tools efficiently and how can you encourage them to adopt best practices?
These are the questions managers often ask. Managers can become blind to important details, hindering their team's empowerment. You cannot simply grade productivity by clocking in/clocking out.
It is essential to assess the impact and value of employees in today's mobile and hybrid workplaces. But you also need to take into account what might be hindering great employees from performing their best work.
Employees unfamiliar with technology tools may take longer to adapt. They might continue doing things the same way they always have, unaware there's a better way - or at least, faster.
However, productivity can be challenging to monitor. Tracking every keystroke of remote employees would likely not promote positive progress.
What's Your Answer?
Microsoft 365 users have a tool that can help them uncover productivity gems - Microsoft Productivity Score. What do you think about this tool?
What Does Microsoft Productivity Score Do?

Microsoft Productivity Score evaluates core areas of employees' work flow. They are also viewed collectively, which prevents employees from feeling personally spied upon by looking at the entire team.
This tool offers invaluable insights that you can share with your staff, helping them improve performance. This includes hardware-related data which could be used to determine if any of your company tools are restricting employees' mobility.
The MS Productivity Score measures the following areas.
People Experiences

This category examines how people work. Is it best to utilize collaboration best practices or do they improvise? Meetings remain a constant process? Do employees still send attachments instead of sharing cloud storage links?
Here's an example of the insight this category provides: By using online files and collaboration, each employee can save 100 hours each week. This metric and others help you gauge where your team stands in regards to efficiency.
By dedicating 100 minutes per week, you could save an astounding 86.6 hours annually - more than two full workweeks!
All images of Productivity Score are from Microsoft.
These are subcategories of people's experiences:


Communication


Content Collaboration


Mobility


Meetings


Teamwork



Technology Experiences
Technology experiences examine the performance and health of your devices. Are there any hardware or software issues on your endpoints? Do you notice slowdowns within your team? Is network connectivity stable? Are apps being updated correctly? These questions and more should be taken into consideration when assessing technology experience.
This category will assess the technology utilized by your team and notify you of any potential threats. Technology that's not functioning optimally or is insecure can cause delays in operations for your business.
These three subcategories fall under the technology experience domain.


Endpoint Analytics with Intune Required


Network Connectivity


Microsoft 365 apps Health



Special Reports

The Microsoft Productivity Score offers more than just technology and people; this area provides data on business continuity planning.
This report will show you how collaboration is evolving within your company. These changes could include transitioning from remote work to in office work or vice versa. This report will also assess how these modifications impact productivity within your team.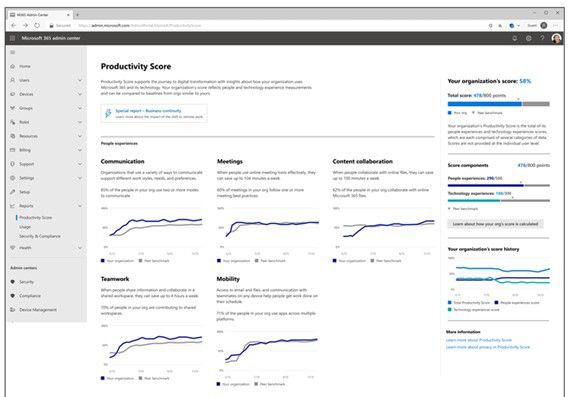 How productivity scores can benefit your company

Automated Metrics Tracking

Microsoft Productivity Score automatically tracks the use of Microsoft 365 by your team, providing valuable insight into how employees utilize digital tools. This provides valuable data about their habits and habits.
These metrics will give you insight into whether employees are adhering to best practices. Sometimes they just need some coaching in order to discover a more efficient method.
Gain Insights Through Data
This tool offers useful insights that help you interpret the data. It provides context, not just metrics. This gives you the chance to educate yourself and your employees about things that can streamline workflow and save time.
Save time by getting an expeditious response to a question. You may not know that @mentions can help achieve this. The Productivity Score shows you how often people utilize #mentions for team communication and how much this increases response rates.
Recommendations for Action
The third piece of advice you receive is how to utilize the information. Your Productivity Score will provide specific, actionable tips on improving a particular metric, helping boost productivity.
This tool offers insight, metrics and recommendations.
Are You Looking to Start Utilizing Microsoft Productivity Score

This invaluable tool can assist in getting your business off the ground. Plus, we offer solutions designed to boost employee productivity - let's chat!